Pepsi Next is a Pepsi variant released in March 2012. It is sweetened with High Fructose Corn Syrup, Aspartame, Acesulfame, and Sucralose. It is marketed toward those who enjoy the taste of regular Pepsi, but are unsatisfied with the taste of PepsiCo's diet Colas such as Diet Pepsi, Pepsi ONE, and Pepsi MAX.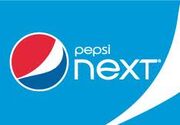 Ad blocker interference detected!
Wikia is a free-to-use site that makes money from advertising. We have a modified experience for viewers using ad blockers

Wikia is not accessible if you've made further modifications. Remove the custom ad blocker rule(s) and the page will load as expected.